Joliet PrideFest
September 23 @ 12:00 pm

-

6:00 pm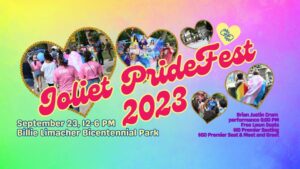 Main Festival 12-6:00PM
Finale Performance by Brian Justin Crum begins at 6:00pm
Get ready for a day filled with boundless joy, laughter, and unity at the Joliet PrideFest! We're pulling out all the stops to create an unforgettable experience that celebrates the LGBTQ+ community and promotes acceptance and equality. Joliet PrideFest is packed with an array of exhilarating activities designed to cater to all ages and interests.
 The Beat Goes On: Live Music Extravaganza 
Feel the rhythm of love as our stages come alive with electrifying live music performances. From local talents to renowned artists, the music will be a powerful reminder that diversity is our strength and harmony is our anthem.
 Artistic Expression at Its Best 
Let your true colors shine with face painters who transform faces into vibrant canvases of self-expression. From rainbow designs to glittering masterpieces, our artists will help you wear your pride proudly.
 Magic, Mermaids, and More 
Prepare to be dazzled by mesmerizing magic acts that will leave you in awe. And don't miss the chance to meet a real-life mermaid, a symbol of fantasy and wonder that embodies the spirit of PrideFest.
 Connect and Empower 
Explore our resource fair, a hub of knowledge and support from LGBTQ+ organizations and allies. This is your opportunity to engage with advocates, learn about important issues, and strengthen the bonds of our community.
 Shop 'til You Drop: Vendor Market Delights 
Indulge in retail therapy at our diverse vendor market, where artisans, crafters, and food vendors offer a treasure trove of unique finds and delectable treats.
 Bingo, Bouncies, and Boundless Fun 
Challenge your luck and play thrilling rounds of bingo, bounce around in our inflatable play zones, and frolic in the foam machine frenzy – all ensuring smiles and laughter are in abundance. If tech is more your thing our game truck is packed with thrilling video games that promise hours of entertainment.
 PrideFest Storytime: Sweet Tales of Acceptance and Love 
Gather 'round, dear friends, for special PrideFest story times! With hearts as vibrant as a rainbow and a spirit that shines like a disco ball, join us for tales that celebrates love, diversity, and the magic that happens when we embrace our true selves.
 Interactive Encounters 
Prepare to be amazed by up-close and personal encounters with some of our animal ambassadors. Get a chance to touch, learn, and bond with creatures that might be unfamiliar but share our world. These interactions provide a bridge between different species and remind us of the shared bonds that make our planet so unique.
 Axe Throwing Adventure 
Discover your inner warrior with our exciting axe throwing experience. Test your aim, compete with friends, and add a touch of exhilaration to your PrideFest adventure.
 All Day, All Love 
Every activity is available throughout the day, ensuring there's something for everyone, no matter the hour. Share laughter, make memories, and forge new friendships in a space that embraces love and inclusivity.
Joliet PrideFest is a testament to the power of unity and acceptance. It's a celebration that reminds us that together, we're stronger and that our differences are what make us truly beautiful. Join us as we honor diversity, create connections, and write a new chapter in the story of love and equality.
Save the date, spread the word, and let's make Joliet PrideFest an extraordinary celebration that will echo with laughter and love for years to come!