The Long View – Philip Juras
September 19 @ 9:00 am

-

4:30 pm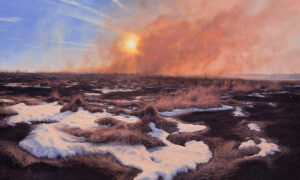 This exhibition features paintings from 23 nature preserves across Illinois by artist and conservationist Philip Juras.  The work celebrates the 60-year legacy of the Illinois Nature Preserves Commission and offers a window into the past and present ecology of the Prairie State.
The prairies featured in Juras' paintings range geographically from the shore of Lake Michigan, Lockport, and down through the southern end of Illinois. They show the visual variety found in remnant prairies based on physical characteristics and the ephemeral qualities of weather and season. Juras remarks that, 'together, they represent multiple aspects of the tallgrass landscape I've come to cherish. For example, as a southerner more accustomed to densely forested environments, I find the long views in prairies irresistible.'
Together with Juras' paintings is another exhibition, Prairie Companion. This exhibition features artwork and specimens from the Illinois State Museum collection that highlight aspects of prairie ecology and how our actions have consequence for prairie survival. While Juras' exhibit celebrates the wide vistas of the prairie, this exhibition considers individual species and details of places that define this vital ecosystem.
'As an artist, I'm enthralled by tallgrass prairie. Its beauty, rich ecology, and fascinating history are the essential ingredients in what I believe makes a compelling landscape. It is moving to set foot in a true prairie remnant where I can ponder the profusion of flowers and grasses and imagine how the patch of prairie in front of me could once have covered millions of acres.' 

Philip Juras