The Life of Mother Theresa Dudzik
October 15 @ 2:30 pm

-

4:00 pm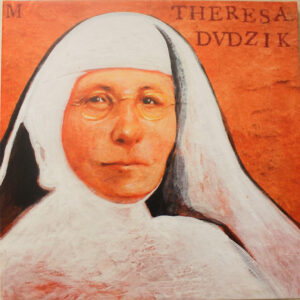 Author Patricia Camalliere and Sister Jeanne Marie of The Franciscan Convent in Lemont will be speaking about the life of Mother Theresa Dudzik.
In 1881, Chicago welcomed a young woman, Josephine Dudzik, and her family who had emigrated from Poland. They settled in the vicinity of the well-known St. Stanislaus Kostka Church on the city's vibrant northwest side.
A generous, compassionate, and devout woman, Josephine was moved by the condition of the aged, poor, abandoned, and orphaned whom she encountered in her neighborhood. She came to their aid spiritually, physically, and emotionally, even sheltering some in her own family home. During Chicago's severe financial crisis of 1893, which resulted in greater economic stress and unemployment, Josephine upon the advice of her pastor formed a religious community to help her aid the elderly and those in need. Thus, on December 8, 1894 the Congregation of the Franciscan Sisters of Chicago was born, and Josephine Dudzik was called Sister Mary Theresa. Sister Mary Theresa received the honorary title of 'Mother' in 1948 twenty-two years after her death.
For more than 127 years, imbued with the spirit of Mother Mary Theresa, the Franciscan Sisters of Chicago have responded to the needs of God's people and have served in various ministries, the care of the elderly and the sick in hospitals and nursing homes: providing housing and services for residents in independent, assisted living, and skilled nursing facilities; the operation of child care centers; teaching in elementary and secondary schools and universities; pastoral care; social service work; and sheltering victims of domestic violence.
Mother Mary Theresa died in Chicago on September 20, 1918. Because of the heroic virtues evident in her life, she is now a candidate for sainthood. Her remains, brought to the motherhouse of the Franciscan Sisters of Chicago in Lemont from St. Adalbert Cemetery in 1972, were sealed in a granite sarcophagus in the Sacred Heart of Jesus Chapel. The cause for her beatification and canonization is actively being pursued. We pray that Venerable Mother Mary Theresa will be recognized as a saint in the Catholic Church and serve as a model for all Christians.