"Forgottonia, An Intimate Portrait of Rural Illinois"
May 14 @ 1:00 pm

-

2:00 pm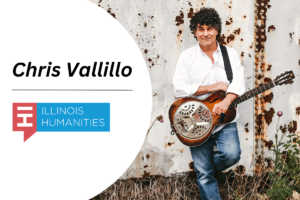 The whole family will enjoy this FREE performance at the Lock 16 Visitor Center! The Canal Corridor Association will host an Illinois Humanities Road Scholars Speakers Bureau presentation entitled "Forgottonia, An Intimate Portrait of Rural Illinois" by Chris Vallillo.
Don't miss Chris Vallillo as he performs his new one man show, "Forgottonia," featuring music he wrote over the last 35 years about Western Illinois based on his experiences as a folklorist and songwriter in rural Illinois. The show combines music, storytelling, and historically accurate narratives in a solo performance. Vallillo has spent the past 35 years documenting and preserving the heritage of Western Illinois: the land lovingly called Forgottonia.
Chris Vallillo is an award-winning rural singer/songwriter, folk musician and folklorist with a natural affinity for American roots music. A master of bottleneck slide guitar, he weaves original, contemporary, and traditional songs into a compelling and entertaining portrait of the history and lifestyle of the Midwest. In the mid 1980s he was involved in documenting the last of the "pre-radio" generation of rural musicians in Illinois.
This event is being produced by Canal Corridor Association in partnership with Illinois Humanities. The Illinois Humanities Road Scholars Speakers Bureau invites Illinois authors, artists, and educators to share their expertise and enthusiasm with people throughout the state, enabling local nonprofit organizations to present free-admission cultural programs to their communities.
You can find more information on Chris Vallillo and his presentation at https://www.ilhumanities.org/chris-vallillo/