September 30 @ 3:00 pm

-

October 1 @ 2:00 am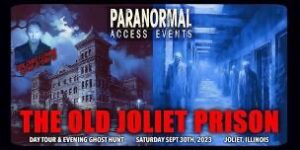 Paranormal Access Events returns to Illinois's Most Haunted Pr*son!!
Hosted by Chris Fleming, international paranormal investigator and medium from TV's HELP! My house is haunted, the Telly Award Winning The Curse of Lizzie Borden, and the international hit series for Discovery+, Haunted Scotland with Gail Porter, and the upcoming second season Haunted Ireland releasing late fall of 2023!
Join us once again for a fun filled spooktacular day and night at the Old Joliet Pr*son as seen recently on TV's Destination Fear, Ghost Hunters, and Ghost Adventures. If this is your first time, you won't be dissapointed. The staff at the Pr*son are amazing and the location is one of the most haunted places you could ever visit.
You will get an exclusive oppportunity to investigate with Chris inside Illinois's most haunted and notorious Pr*son joined by Old Joliet Prisons experienced tour guides whom will take us to each location, introducing us its historical and paranormal significance. For those of you that have attended previous paranormal access events at Old Joliet Pr*son, you know how active this place can be.
Access to this event are Limited to only 50 ticket at this price until July 31st, then pre-sale is over and prices will revert to original price of $130.
Chris will make sure to spend time with each group and run various experiments to communicate with the spirits of the Pr*son. You will have the opportunity to walk around on your own (daytime tour), take plenty of photos, investigate and use your own equipment and join in on various ITC and EMF paranormal experiments and communication circles. The Tour guides will also be there throughout the night, to guide us and answer any further questions.
This Pr*son is known to have housed Richard Speck, John Wayne Gacy, Baby Face Nelson, James Early Ray, and Leopold and Loeb. We have heard singing, screaming, yelling, humming, strange noises, seen shadows, weird lights, and witnessed incredible spirit communiation in multiple groups.
Who will come through this time?
THE SCHEDULE :
Investigations day and night at: Old Joliet Pr*son, 1125 Collins St, Joliet, IL 60432
If you are looking for a Hotel, we normally stay at: Clarion Hotel & Convention Center Joliet, 411 S. Larkin Avenue, Opal Room, Joliet, IL, 60436, US
2:45-3 PM – Arrive and Park at 1125 Collins St, Joliet, IL 60432 in the Old Joliet Pr*son and Check in with Chris Fleming to Receive your Paranormal Access VIP Badge. Parking FRONT at main entrance. You will see the lot and lower lots for parking. Park and Enter there at the Vistors Center. There will be an entrance and a counter inside where I will check everyone in giving you your VIP pass and sign a wavier that the Pr*son requires. Everyone must check in, receive pass and sign waiver to enter the Pr*son.
3 PM – 4:30PM (90 min) – Old Joliet Pr*son Daytime Access Tour– This is a great opportunity to walk around the Pr*son freely on your own for 90 minutes. Take photos of the Pr*son capturing the colors and textures of this amazing Pr*son, grab Photos with Chris, Sam and Dave, walk the grounds freely and visit the Pr*son areas. See the locations we will be investigating BEFORE the nights ghost hunt. Tour guides will also be there to answer any questions.
6 PM – 7:30 PM – DINNER @ GOLDEN CORRAL BUFFET GRILL – You are welcome to join us for dinner. We will have tables reserved under Paranormal Access Event (chris) Golden Corral, 2100 W Jefferson St, Joliet, IL 60435-6622. Only 5 minutes away from Hotel. This is an option and you are free to eat anywhere else if you prefer.
**Note: If you purchase a ticket for this event and you cannot make it for the 3pm day time walk or dinner and only make it for the 8pm night time ghost hunt, thats okay. Please let me know so I can take note. You have that option and I will see you and check you in when you arrive for the night time event.
Clarion Hotel is 15 minutes away from the Old Joliet Pr*son
8:30 PM Check in / Meet at Old Joliet Pr*son for Late Night Ghost Hunt – Paranormal Access badge Passess will be checked as you enter. Old Joliet Pr*son Visitors Entrance, 1125 Collins St, Joliet, IL 60432
A Group Photo will be taken as soon as everyone is together.
We will break down into 5 groups. Each group will be led to a different location each 45 min by a Joliet Pr*son tour guide that will stay with each group from location to location. Chris will get the opportunity to work with each group and will rotate throughout the evening after each location, investigating, answering questions and working with you while we ghost hunt and make contact with the spirits of the Pr*son. This way every group gets to investigate with every host. There will be one location each group will be without a host, but still have the tour guide.
5 Locations will be investigated. (Map# & Location);
15/17 – East and West Cell Houses
13/14 – Chapel and School
22 – North Segregation
21 – Cafeteria
19 – Hospital
8:50 PM – Groups head to each location for 45 min each. 5 minute break to move to next location and use restroom if needed.
9 PM – 9:45 PM Location 1-5
9:50 PM – 10:35 PM Location 1-5
10:40 PM – 11:15 PM Location 1-5
11:20 PM – 12:05 AM Location 1-5
12:10 AM – 1:00 AM Location 1-5
1 AM – 2:00 AM FREE FOR ALL GHOST HUNT – Ghost hunt any area you would like on your own.
2 AM – Say goodbyes, Hhead home or to hotel & drive safe !
BREAKFAST ON YOUR OWN – THE CLARION HOTEL HAS FREE BREAKFAST
* Schedule (times) may change slightly to accommodate specific locations and allow access for all attendees.
Hotel Info:
Clarion Hotel & Convention Center Joliet
411 S. Larkin Avenue, Building A, Joliet, IL, 60436, US
(815) 768-1354
Lunch & Dinner:
Meals are not part of ticket price, but attendees are welcome to join.
The Clarion Hotel has free breakfast, but no lunch .
Sat Evening, we will eat 6 pm – 7:30 pm at the Golden Coral Buffet and Grill, 2100 W Jefferson St, Joliet, IL 60435-6622
Q&A:
What do I bring?
Feel free to bring your own flashlight and ghost hunting equipment (recorders, SLS cameras, EMF detectors, Cameras, snacks, . There will be water bottles there in a cooler. No Ouija boards please. Not allowed. Bring an umbrella and rain coat in case it rains. It might Friday night! the locations are inside but we do walk outside to each location.
What do I wear?
Wear appropriate clothing for the weather and evening. Must wear closed toed shoes. No sandles. (due to debris on the grounds and in the building).
What if it rains?
If by chance there is rain please bring umbrella. The locations are inside, but we will be walking outside to get to each location. There may be thunderstorm or rain during the day Sat, but expected to clear up by early evening. So we are still on!
Bathrooms:
There are port a potties on site and there maybe public bathrooms running by May. I have been told they are updating one of the meeting rooms and bathrooms and it may or may not be completed by May 9th.
PARKING:
This year parking has been moved to the front Visitors entrance. They now have a heated and air conditioned entrance building. Park in the upper or lower lot and enter through the gates. We will have someone at counter to take your name. This is Free Parking. We will park here for each event. You will see flags there for parking and visitors.
Cancellations:
If event needs to be cancelled by promoter or location due to emergency, tornados, severe thunderstorms or disaster, or if Pr*son shuts down due to COVID, all tickets purchased will be rescheduled or refunded.
Refunds:
Sorry No refunds* . If you need to resell your ticket let me know. To avoid phishing and resale scams, all resell of tickets MUST GO THROUGH ME (chris) to avoid any such scams. Do not buy tickets from anyone posting on this page, except from the EVENT BRITE website. We will try to resell your ticket if possible, but no guarantees.
Respect:
The utmost respect must be had for all the spirits there. No disrespect or taunting of the spirits please.
NO ALCOHOLIC BEVERAGES ALLOWED IN Pr*son. Please do not drink just before the event. We want everyone sober.
DM with any further questions.
HISTORY of Old Joliet Pr*son:
Opened in 1858, just six years after the incorporation of the City of Joliet, the Illinois State Penitentiary, Joliet, now known simply as the "Old Joliet Pr*son," has – for better or worse been – synonymous with the City of Joliet for nearly its entire history. The Joliet Pr*son, with its iconic castellated gothic architecture was designed by Chicago earliest architect W.W. Boyington, who also designed the Chicago Water Tower. The use of Joliet limestone was a trademark of Boyington's designs and this locally quarried stone was used to erect structures all around the country. The Pr*son in Joliet replaced the first state penitentiary in Alton, built on a bluff overlooking the Mississippi River in 1831. The privately-managed Pr*son quickly degraded into a state of horrendous conditions. Noted reformer Dorothea Dix personally petitioned the Illinois General Assembly to construct a new penitentiary after inspection the Alton Pr*son in 1847.
While action from the State legislature and some construction occurred in prior years, May 22, 1858 marks the "beginning" of the Joliet Pr*son when fifty-three inmates arrived at a small structure, which still stands, to begin the work of constructing the larger Pr*son around themselves. This included the quarrying of the limestone from two adjacent quarries.
Upon its opening, the Chicago Tribune declared glowingly, "We came away fully impressed with the belief that the important trusts at Joliet are in good hands, that there is growing a State work which will be for long years to come the pride of her citizens." The image of the Joliet Pr*son, however, quickly changed. By 1878, the Pr*son was filled well over capacity with nearly 2,000 inmates. Reports of unsanitary and dangerous conditions emerged and by 1905, calls for the closure of the "old Pr*son" were made. The 1926 construction of Stateville Penitentiary in what is now Crest Hill was intended to close the Pr*son, but it continued to house offenders until 2002, when it was finally closed by Governor George Ryan as a budgetary measure.
The Pr*son is probably best known today for its most popular, albeit fictional inmate – "Joliet Jake" Blues from the 1980 film "The Blues Brothers." Since then, the Pr*son has made a number of appearances in films in television, including as the character of "Fox River State Penitentiary" in the critically acclaimed Fox series "Pr*son Break," and in smaller scenes in Derailed, Let's Go to Pr*son, and recently, Empire.
Sadly, despite this interest from Hollywood, the Pr*son remained closed, and in addition to damage from the elements, was subject to rampant vandalism, including several acts of arson. Attempts were made to find suitable options for reuse, including tourism, by the Collins Street Task Force of concerned public and private leaders, but these efforts were stalled by the Great Recession of 2008. Continued vandalism and destruction of the site led Joliet Mayor Bob O'Dekirk to personally petition the state government to allow the City of Joliet to take control of the property in December of 2017. Since then, the City looked to the Joliet Area Historical Museum to take a leadership role in operating tours at the site. In partnership with the City, the Museum identified a number of community partners to form a public/private partnership entity, The Old Joliet Pr*son Preservation Coalition. To date, the project has been met with an enthusiastic response from the community of Joliet, culminating in over 6,500 volunteer hours, one million dollars in in-kind labor and donations, and nearly $200,000 in funds raised to benefit the site.
True to its historic legacy, the Old Joliet Pr*son now takes it rightful place as an authentic, unique asset which is inextricably linked the history of the City of Joliet, and it continues to draw interest from visitors all around the world.
GET TICKETS AT EVENTBRITE!!