Invitation to Book Club: IMCNHC Roadmap Part 2: The Story of The Illinois & Michigan Canal
August 22 @ 8:00 am

-

October 13 @ 5:00 pm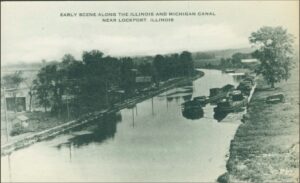 Join us on Friday, October 13, at Lock 16, at 4:00 pm, aboard "The Volunteer" to discuss The Story of The Illinois & Michigan Canal, the 37-page chapter is located in the attached link. Come early and sign up for a 2:30 boat ride!
Contact Susan Roy at [email protected] if you have trouble opening the link.
Part 2 is all about the stories that make up the national story of the Illinois & Michigan Canal region – before, during and after the operation of the Illinois & Michigan Canal itself. Part 2 includes the national significance of the corridor, its role in the development of Chicago, and its connection to Abraham Lincoln. The events of the Corridor are organized into a timeline. Interpretive themes are devel- oped to organize and collect the smaller stories that enrich the overall story. Those extant physical resources that tell these stories are also identified.